"The whole experience was hassle free and very quick. Knowledgeable staff, very honest and open, fast turnaround. The quality of the finished product is outstanding. The fitting was great. The quality of the workmanship, friendliness of the fitters, and the speed at which they completed the job was amazing. They were also very considerate, clean and tidy. All of this for such a great price….Can't wait for them to replace my living room windows."
The issue – creating access to the garden
Tracey had recently re-fitted the kitchen in her garden flat and wanted to replace the old single glazed sash window with double glazed French patio doors to allow access to the garden.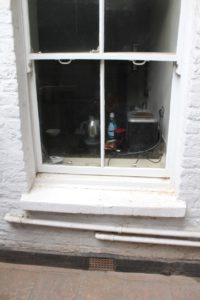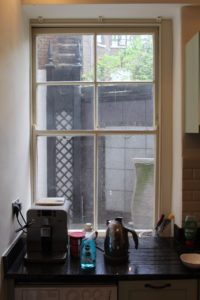 The challenge – getting planning consent from Hammersmith and Fulham
Tracey's flat is in a conservation area and because changing a window to a door is a change to the outside of the building's appearance she needed to get planning permission from Hammersmith and Fulham council and also from the freeholder of her building. Sashed organised the drawings that were required and prepared the planning application on Tracey's behalf. Once the planning permission from Hammersmith and Fulham had been granted Tracey was able use these drawings to also gain permission from the freeholder for the work to be carried out.
The solution – new timber French patio doors from Sashed
Tracey opted for French doors in finger jointed pine. Our Finger jointed pine is a slow grown, high density timber, which is highly durable and also great value. Commenting on the fitting Tracey said, "Karl, the fitter from Sashed was extremely helpful. There was some pipework from where the washing machine used to be that was still there when he arrived to fit the doors, but this didn't phase him at all and he liaised with the plumber directly to get this moved." said Tracey. The whole job, including creating the new opening for the French doors, was completed in just two days.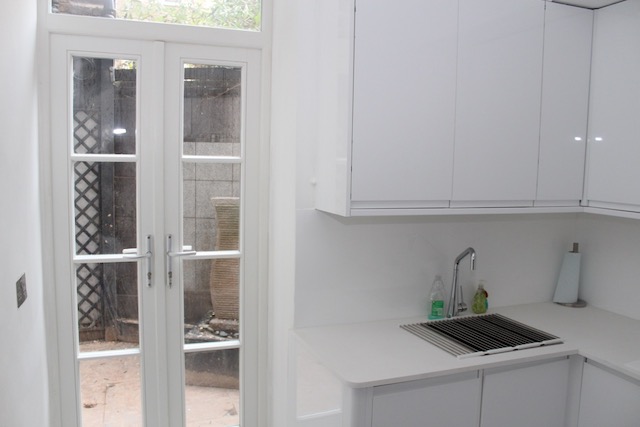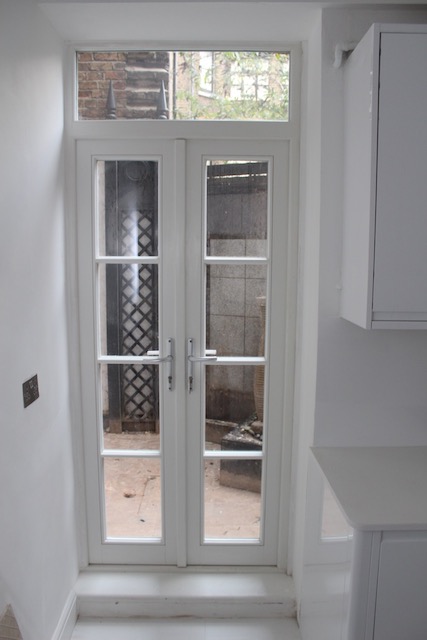 The result –
 

a brighter, warmer and quieter kitchen

Commenting on the project Tracey said, "The new French doors look great, the quality and finish of them is outstanding and the whole experience was hassle free and very quick. I will use them again to replace my living room windows."
How we did it
The Sashed team carried out a survey of the property, in order to get a clear idea of what work needed to be done.

A quote was then put together and given to Tracey.

Sashed organised drawings and prepared the supporting materials for the planning application.

The team installed the new doors and made good inside and outside the flat.

So if your windows are no longer performing as well as they once did, call us now on 0800 195 2939 to see how we can help.