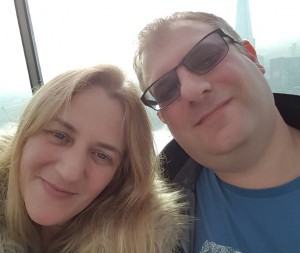 'We're absolutely delighted with the consistently high quality and visual impact that having Sashed windows and doors throughout has given our home.'
The Issue – Draughty bay window no longer functional
Mark and Sue Granger's sliding sash bay window in the sitting room of their south-east London home was failing. ˜They were not really functioning at all, says Mark. ˜They had been painted shut, and they were also draughty. With winter looming we wanted to get them sorted out. The couple contacted the Sash Window Workshop, who gave them a quotation for a partial refurbishment and partial replacement of the existing bay window. This involved draught sealing and replacement of the window sashes only. Then a colleague recommended Sashed to them and they contacted us for a quote.
The Grangers were initially planning to replace only the bay window at the front of the flat with a timber window and the kitchen and French doors at the back and sides of the flat with uPVC as they presumed it would be too expensive to have timber throughout. We much prefer wooden windows but thought we would be saving a lot of money by having uPVC in the parts of our home that were not visible from the front, but in actual fact the quote from Sashed for replacing the kitchen window and French doors in timber was only slightly higher than the quote we'd had for replacement in uPVC, and we've ended up with much more beautiful products, said Mark.
The solution – a quote from Sashed for replacement windows and doors
"Sam came to our house and did a survey for us. He talked us through all the options and we were impressed with his knowledge and all the information that was on the Sashed website. The website, in fact, was one of the best we'd seen and we felt reassured by this, said Mark.
The Granger's new windows included hidden trickle vents, to help with ventilation and restrictors so that they could leave the windows open a little with our compromising on security, and privacy glass.
The result – New sash and casement windows and French doors that looked great and performed well
The bay window, casement window and two sets of French doors were installed in one day, with one more day needed for making good. Commenting on the installation Mark says, ˜We were really impressed with the fitters, they were very clean and tidy and the quality of the workmanship was excellent. The windows and doors from Sashed are super top quality and have some great features like hidden trickle vents. We would definitely use Sashed again and recommend them."
A breakdown of how Sashed installed new wooden windows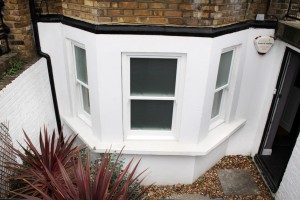 The Sashed team carried out a survey of the property, in order to get a clear idea of what work needed to be done.
A quote was then put together and given to Mark and Sue. The team was able to install all four windows and doors in one day, with only one more day required for making good on the inside and outside of the property.
So if your windows are no longer performing as well as they once did, call us now on 0800 195 2939 to see how we can help.