"What a fantastic job! My new windows look lovely, and I was very impressed with the process all the way through. I was constantly kept informed about the progress of manufacture and delivery. The fitters were amazing, they only took one day even though there were a few tricky things to circumnavigate! They were clean, tidy, polite and the quality of their work was excellent. The windows were also very competitively priced. I would definitely use them again and highly recommend them."
The issue – original sash windows insecure and not able to open
The bay window in Kas's flat in Westbourne Park single glazed and couldn't be opened. As it was also not very secure, security bars had been added to the outside of the window and security mesh to the inside, which were unattractive and reduced the amount of light into the room.
The challenge – re-aligning the bay window
Over the years, the natural movement of the building meant that sash windows in the two-metre wide bay were four inches lower at one end. This presented a challenge in fitting the replacement sash windows. The experience fitting team at Sashed were able to correct this, such that it was impossible to tell that the correction has been made from both the inside and outside of the window.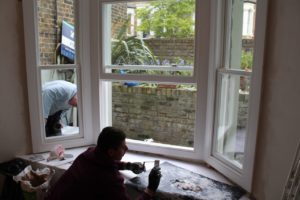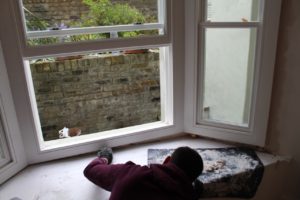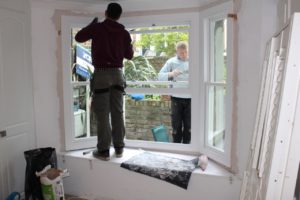 The solution – secure double glazed windows from Sashed
The old sash windows were removed and replaced with the new double glazed sash windows. Unlike many manufacturers of timber, uPVC, and aluminium products, all Sashed windows are glazed from the inside so there is no external beading that can be levered off easily, allowing the glazing unit to be quietly lifted out whole. Kas's new windows also have the added security feature of restrictors, which means the windows can be locked while open to allow ventilation while keeping the room secure.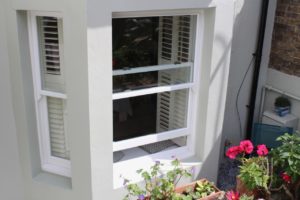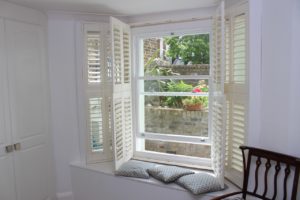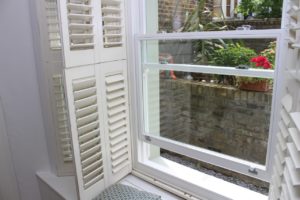 The result – a brighter, warmer and quieter home
The new double glazed windows have made the flat much warmer, quieter and lighter. The new double glazed windows have security features built in so that the old security bars over the windows are no longer needed. Commenting on the project, Kas says, "As the design of the Sashed windows are so much more secure than my old windows I decided that I could do without the security bars and mesh that I had before, so my bedroom is now much brighter and it's great to be able to actually leave them open without compromising on security."
How we did it
The Sashed team carried out a survey of the property, in order to get a clear idea of what work needed to be done.
A quote was then put together and given to Kas.
The team installed the new windows and doors and made good inside and outside the flat.
So if your windows are no longer performing as well as they once did, call us now on 0800 195 2939 to see how we can help.