"Sashed replaced my old garden French doors to a custom 3/4 glass doors that are elegant and fit the decor of our modern conservatory and kitchen. The installation was first rate and I am so pleased with our decision that I wish we made it sooner."
The issue – existing French doors rotten and beyond repair
The old French doors in Trevor Tay's West London home were in a poor condition and beyond repair, they also let in cold draughts and were not very secure. "We wanted to upgrade the French doors so that they complemented the modern style of conservatory and kitchen," said Trevor, "We also wanted them to be double glazed to improve the insulation in the back of the house."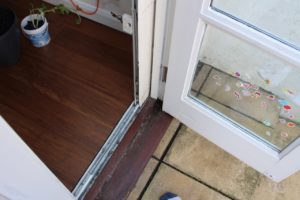 Some before images showing the condition of the old doors and the security bars that were needed to make them secure.
The solution – a new secure double glazed French doors from Sashed
The old door and frame were removed and replaced with a new double glazed French patio door. As the house was not in a conservation area, and therefore there were no restrictions on the design,
Trevor chose a new design with a solid wood panel at the bottom and three glass panes above. The new French door is made from meranti, a hardwood that is very durable, and it has a multi-point locking system, making the house more secure.
The result –
 

a greatly improved appearance and a brighter, warmer and quieter kitchen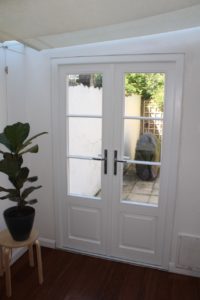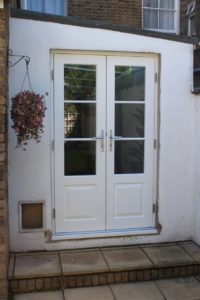 Commenting on the project Trevor said, "The new French doors are elegant and fit the decor of our modern conservatory and kitchen. The installation was first rate and I am so pleased with our decision that I wish we made it sooner." Since having the new French doors Trevor has decided to replace more windows in his home with new timber double glazed sash windows from Sashed.
How we did it
The Sashed team carried out a survey of the property, in order to get a clear idea of what work needed to be done.

A quote was then put together and given to Trevor.

The team installed the new French doors and made good inside and outside the flat.

So if your windows are no longer performing as well as they once did, call us now on 0800 195 2939 to see how we can help.