"Excellent throughout the whole process. A thorough review of my challenging conservation area requirements, good quote and terrific craftsmanship and expertise from John and Pat who fitted great windows and a door. The customer service and work pre and post installation were superb."
The issue – single glazed aluminium windows and timber French door past its best
The door and casement windows in John's basement flat in Marylebone were in a poor condition. The existing door frame had shrunk away from the wall and had a temporary fix of expanding foam inserted into the gap. The aluminium casement window alongside it was single glazed with louvered vents in the top lights that were unattractive and also not very secure.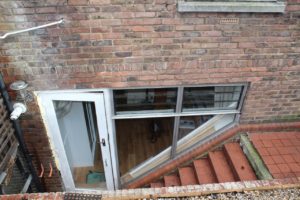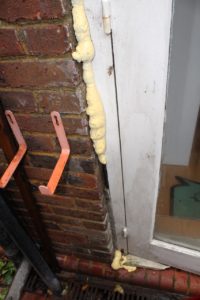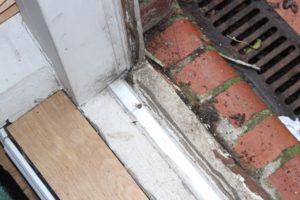 The challenge – meeting the requirements of the conservation area
Due to the fact that John's flat was in a conservation area, there were certain restrictions on the materials that could be used for replacing the windows and door. At some point an aluminium window had been fitted, but the conservation area requirements meant that any replacement windows must be in timber, which would have been the original material used.
The solution – a new secure double glazed door and windows from Sashed
The old door, frame, and windows were removed and replaced with the new double glazed door and windows. The new French door and window are made from slow grown, finger-jointed pine, which makes them extremely durable. The door has a multi-point locking system and the top openers on the casement window also have locks, making the flat much more secure.
The result – a greatly improved appearance and a brighter, warmer and quieter home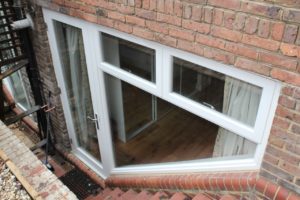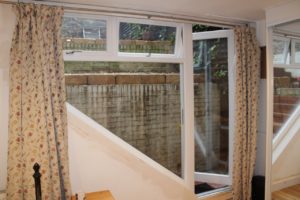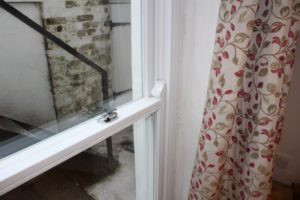 "The difference between the old windows and door and the new ones is like night and day! My flat looks so much smarter from the outside and inside it is warmer, quieter and brighter and the quality of the products is excellent," said John. "I was so pleased with the products, fitting and the customer service I received from Sashed that I have decided to ask them to replace another window."
How we did it
The Sashed team carried out a survey of the property, in order to get a clear idea of what work needed to be done.
A quote was then put together and given to John.
The team installed the new windows and doors and made good inside and outside the flat.
So if your windows are no longer performing as well as they once did, call us now on 0800 195 2939 to see how we can help.