We were very impressed by the whole process, from the visit for preparation of the quotation for the windows to the follow-up visit following the completion of fitting the windows and doors. Sam, the managing director, demonstrated good knowledge of good quality window construction and was very thorough in the measuring process. The Sashed website was informative and clear, enabling easy access to information to help us understand the process and find out about the products.'
The issue – replacing old uPVC windows and improving security with new French doors
Chris wanted to restore the original appearance of his four-storey Victorian terraced house in Lewisham. "We had always hated the uPVC windows, which spoilt the look of the house. We also wanted to improve the security of our home by replacing the original French doors with modern, secure ones, but without losing the period features," said Chris.
The challenge – replicating the unique features of the windows and doors
The original Victorian sash windows had been replaced at some point by uPVC casement windows and the sash reveals had been filled in. Sam advised replacing them with spring balanced timber sash windows, which have the same look as a traditional sliding sash window with cords and weights, and operate in a similar way. The three sets of French doors all had unique features, such as antique leading on the glass and others had a full curved radius head which Sashed needed to replicate carefully to ensure an authentic appearance.
The solution – new double glazed timber sash windows and French doors from Sashed
In all, 12 windows were replaced with timber sliding sash windows made from meranti hardwood, and four sets of French doors, also in meranti. "Four of the new sash windows had a full radius head, which would mean that they now matched the original Victorian windows of the neighbouring houses. Replacing these windows was a major job as the sash reveals had to be reinstated to make the radius heads work. Installing the square-headed sash windows was an easier task as these could be fitted brick to brick," explained Sam. The new French doors all have multi-point locking systems for extra security, this is standard in all Sashed French doors.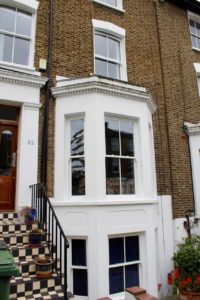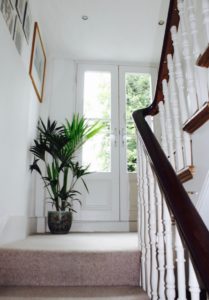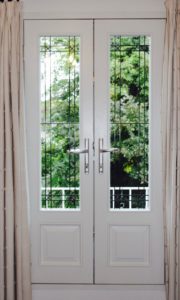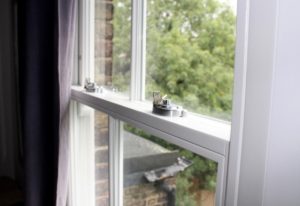 The result – a restored Victorian facade and a warmer, quieter and more secure home
"We're delighted with the end result. The new windows and doors are superb quality and the original features have been replicated very closely," said Chris. "Sam was very knowledgeable on quality window construction and also about planning consent and building control requirements, so we felt comfortable that we receiving good advice. Sashed made every effort to ensure that we were happy throughout the process, the job took longer than expected due to its complexity and cutting away brickwork to restore the box sash reveals was also messier than we had anticipated. When we raised our concerns to Sam he came to the house to listen to us and inspect the work that had been done, he also arranged for a cleaner to come at the end of the job to ensure everything was left in a good, clean state. We would recommend them."
How we did it
The Sashed team conducted a detailed survey of the property, in order to get a clear idea of what work needed to be done.
A quote was then put together and given to Chris.
The team installed the new windows and doors and made good inside and outside the house.
So if your windows are no longer performing as well as they once did, call us now on 0800 195 2939 to see how we can help.