"I love my new Sash Windows and door, they look amazing. The glazing bars are white on the inside to match my windows. Sam and his team were very efficient and they explained everything in detail. Customer service 10 out of 10. I would definitely use them again."
The issue – old windows didn't suit the house
Kathy wanted to replace her existing windows so that they looked like the original wooden sash windows would have done and so that they would match her neighbours. She also replaced a back door and the kitchen window. "I got quotes from four different companies before deciding to go with Sashed. I chose the quote from Sashed because they were a nice company to deal with, Sam was very knowledgeable and helpful and not at all pushy – I felt that he really cared about doing a good job, which made me feel comfortable," said Kathy.
The challenge – unusual window design and planning for shutters
The meeting rail of the bay windows inside the bay had a curved arch, which needed to be carefully replicated to match the windows in street.  The customer also wanted new shutters to be installed along with the new windows.
The solution – new timber sash windows and a new back door from Sashed
Six windows and a door were replaced in total. The sashes in the three window bay were an unusual design with 20-over-1 and 12-over-1 sashes, these original single glazed units were replaced wth modern double glazed units, exactly replicating the original design. The bedroom window had previously been replaced with a casement window, Sashed replaced this with a spiral-balanced sash window, which is a good option if the original sash reveals have been filled in. The back door and kitchen window were also replaced with double glazed units with enhanced security features, such as multi-point locking systems and friction hinges.
We worked with our shutter partners at the the shuttershop and ordered new made-to-measure shutters to match the new windows, we also fitted the shutters as part of the window installation.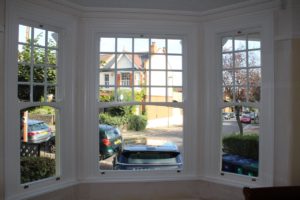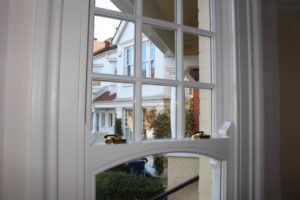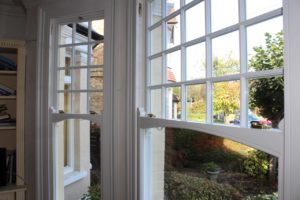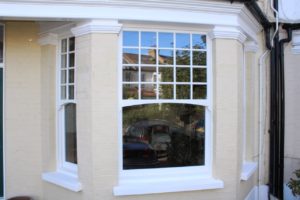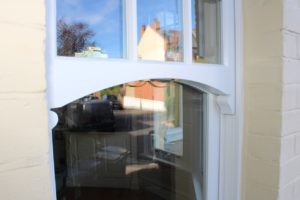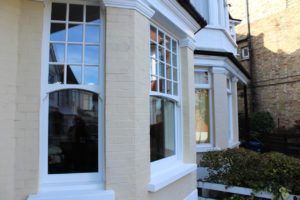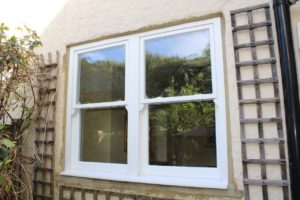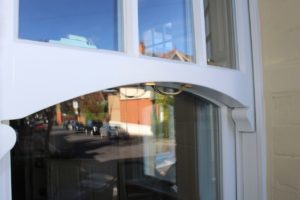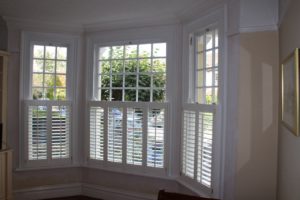 The result –
 

a warmer, quieter and more secure home

Commenting on the project Kathy said, "I love my new Sashed windows and door, they look amazing. The glazing bars are white on the inside to match my windows. Sam and his team were very efficient and they explained everything in detail. Customer service 10 out of 10. I would definitely use them again."

How we did it
The Sashed team carried out a survey of the property, in order to get a clear idea of what work needed to be done.

A quote was then put together and given to Kathy.

The team installed the new doors and made good inside and outside the flat.

So if your windows are no longer performing as well as they once did, call us now on 0800 195 2939 to see how we can help.