We have been granted our FENSA registration today!
So, what is the FENSA scheme and how does it affect you?
Since April 2002, all replacement glazing must now be inspected by building control services to ensure they comply with new thermal performance standards.
The FENSA scheme allows window and door installation companies to self-certify that their work complies with building regulations. It was set up by the Glass and Glazing Federation, in association with all key stakeholders, and meets with Central Government approval. A sample of the work of every installer is inspected by FENSA appointed inspectors to ensure standards are maintained and installers who fail to perform can be suspended or even excluded from the scheme. FENSA also inform local authorities of all completed FENSA installations and issue certificates to householders confirming compliance.
Buying from Sashed and using your own fitter?
If your fitter is not registered with FENSA then you will need to inform your local authority's building control department, they will inspect your windows and issue a building regulations compliance certificate. However, if you are fitting windows and doors into a wider building project, such as major house renovation or an extension, then you can use the same building control services for the replacement of windows and doors as used for the rest of your renovation or extension.
Sashed is registered with FENSA as an approved installer of windows and doors.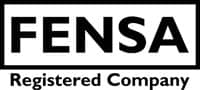 Registration Number 36704